Axis Beef Wellington- John Humbert INGREDIENTS 1 lb Axis Deer Venison Backstrap, all silver meat and sinew trimmed off. 1 lb of Puff Pastry...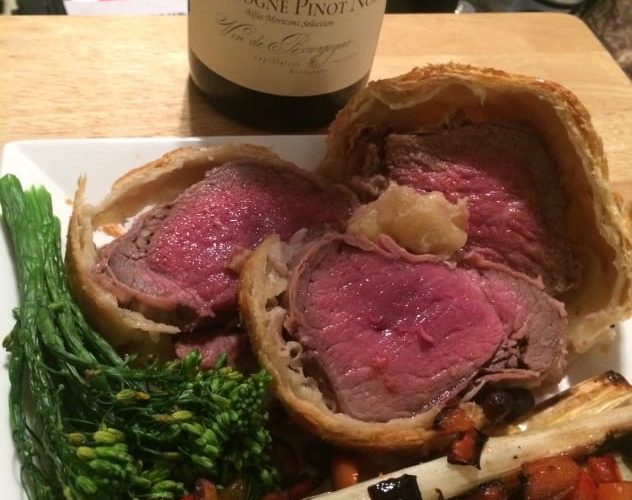 Axis Beef Wellington- John Humbert
INGREDIENTS
1 lb Axis Deer Venison Backstrap, all silver meat and sinew trimmed off.
1 lb of Puff Pastry dough
1 Package of Proscuitto or very-thin sliced/shaved ham
1 generous helping FoiGras or your favorite pate (mushroom-based works best)
1 egg
NOTE: Traditional Beef Wellington calls for lightly broiling the meat before doing the prep of wrapping it in the puff pastry.   However, I have found with axis, which is very lean, that it very easy to end up over-cooking that way.    If you prefer your meat rare or very rare (as I do), I found it is acceptable to wrap the meat raw.
RECIPE:
Take the backstrap and cut it into two or three generous chunks, depending on your style and preference.    Trim all excess sinew or silver meat until you are left with a "clean" hunk of your desired size.   Put aside in the refrigerator.
Dust your work area with flour and take a sheet of puff pastry and use a rolling pin to stretch and flatten.  Cut a third of the flatten sheet.   What you want to do with this 1/3 is fold it over to make a "base" for the meat to sit on.   This provides a sturdier base after the loin piece is wrapped.   Failure to do this and you might have the meat "fall out" of your puff pastry, as the juices collect in the bottom of the pastry shell.   Cut the remaining 2/3 of the puff pastry in half, give a sheets to wrap each loin section.
Take the loin out of the refrigerator and "butter" it with the pate or foie gras.   Cover completely and evenly.    Some folks add sliced mushrooms on top here, and can be a nice complement if the pate is a mushroom-based pate.
After coating the loin with the pate, use the prosciutto to wrap around the lion, covering completely with a thin layer of prosciutto.   Do not make this layer too thick.
Next, place the loin on the puff pastry base.   Then roll out the puff pastry sheet as thin as possible and wrap the prosciutto-covered loin in the puff pasty sheet.   Make the seam underneath, and you can use the puff pastry base to "seal" the sheet seams to hold in place.
Finally, brush the pastry-covered loin with egg making sure to cover the top completely.
Place the pastry-covered lion on a wire rack that has been placed on a broiling pan.  This is to insure that the pasty base and bottom cook complete and create a nice crush.   Failure to have this open area underneath and your loin will cook and stick to the boiler plan and fall apart when trying to remove.    Placing a small piece of foil or parchment paper underneath can also be a good idea to help prevent sticking.
I found that it helps to chill the pastry-covered loin for about 30 minutes before placing into a preheated oven at 400 deg.    Place in the center of the oven as much as possible for even cooking.    Cook for about 30 minutes, reduce to 350 deg and cook for another 5-10 minutes.    A meat thermometer is REALLY helpful here – cook to the meat is about 130-135 deg.      It is next to impossible to check the meat for desired doneness when it is wrapped – so the "trick" of this dish comes with experience.    I sometimes make two/three loins, and use one as a "test" loin where I can cut into it to check progress and insure doneness (then eat that one myself saving the other for my guests).
This dish requires some prep and skill – but when you have it right, it is a spectacular meal in taste and presentation and will elevate your status as chef with family and friends.
Written by John Humbert