To Joe and the staff at Agua Vida Ranch I just wanted to thank you for the great time I had at your ranch...

To Joe and the staff at Agua Vida Ranch

I just wanted to thank you for the great time I had at your ranch in January.  I have hunted all over the world and you run a first class operation here in Texas.  When I pulled into the gate, I was very excited to see numerous animals before arriving to the lodge.
Your lodging, staff, and food were above my expectations.  All meals were fresh and very good. My first hunt started on Friday with Joe and we were after Axis. I have never shot an Axis before and always wanted too. Joe had the perfect stand picked out that a big Axis had been recently seen at.  After arriving to the stand, we had probably 60-75 Axis and 15-20 Whitetail out within 30 minutes. All animals were in great shape and we had a shooter Axis come out. Among all of the animals it was difficult to get a clear shot so we let the sun go down to return there in the morning.  We went over to the cleaning station after the hunt to see what the other hunters in our group had harvested.  My good friend Jerrel Thomas shot a 9 point Non Typical  Axis Buck  that will make a great mount. We then went back to the lodge for a good home cooked meal and a few drinks to wind down for the night. The next morning Joe and I went back the same stand. At around 8am the Axis  we were after came out and as soon as I had a clean shot I took him. We had quick photo session and did some measurements.  He taped out at 33''. That is a great Axis in my book and will look even better in my trophy room.  I did some fishing next to lodge after breakfast and caught about 10 – 12 bass in about an  hour before going out for the afternoon hunt. My next animal I wanted was either a Blackbuck or Mouflon. We went to a stand called Long Shot so we could glass for about 500 yards in multiple directions. The wind really started to pick up and was blowing 35-40 MPH by 4 pm. Around 4:30, the animals started to come in. We had some nice whitetails and younger Fallow along with 2 younger Blackbucks at the feeder by 5:30.  Around 6 PM a nice Mouflon Ram came in and I took him.  We did a photo session and then we went to the cleaning station. A couple of other nice trophies were taken that evening including a Sika, Blackbuck, and Scimitar Oryx.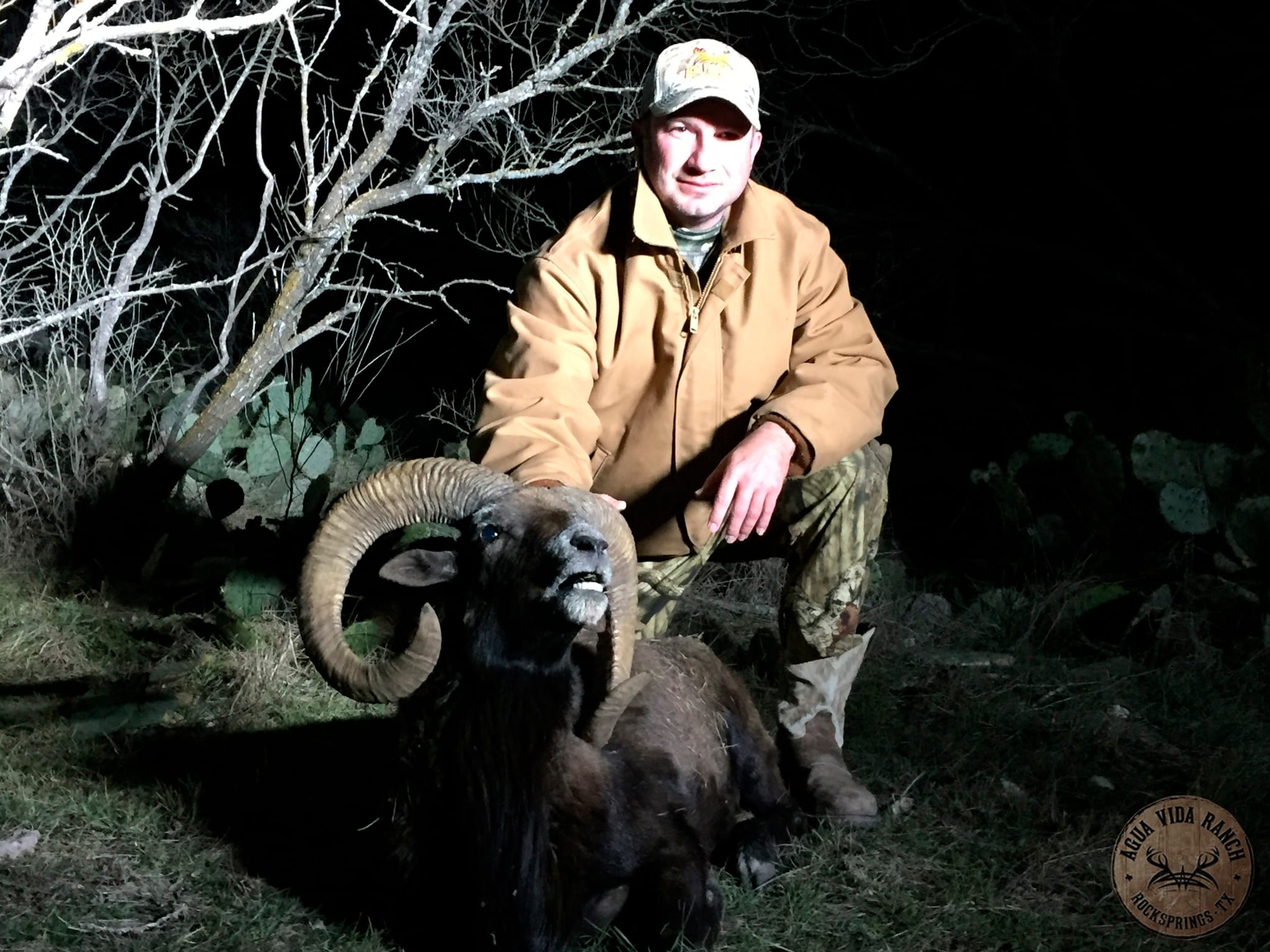 Once again we went back to the Lodge and had a nice dinner and good company to wind down for the night as the next morning was our last hunt. The winds really started howling and must have been 40 mph in the am, but Joe and I set out in pursuit of a big chocolate Fallow. We went to a stand called ZigZag and I soon found out why—they stand was back and forth in the wind making you zig and zag.   A few animals came in and surprisingly the big chocolate fallow we were after showed up. I took the shot once it presented itself. We did another photo session and got some really nice pictures. That was the conclusion to our hunt. I took 3 trophy class  animals in my stay at the Agua Vida Ranch and was very impressed with the whole experience. Joe and I talked about our trips to different countries and what we hunted and there never was a dull moment in the stand. Hopefully he and I can hunt together in the near future. If you are looking for a nice, quiet and quality hunt, I would recommend Joe and Agua Vida Ranch.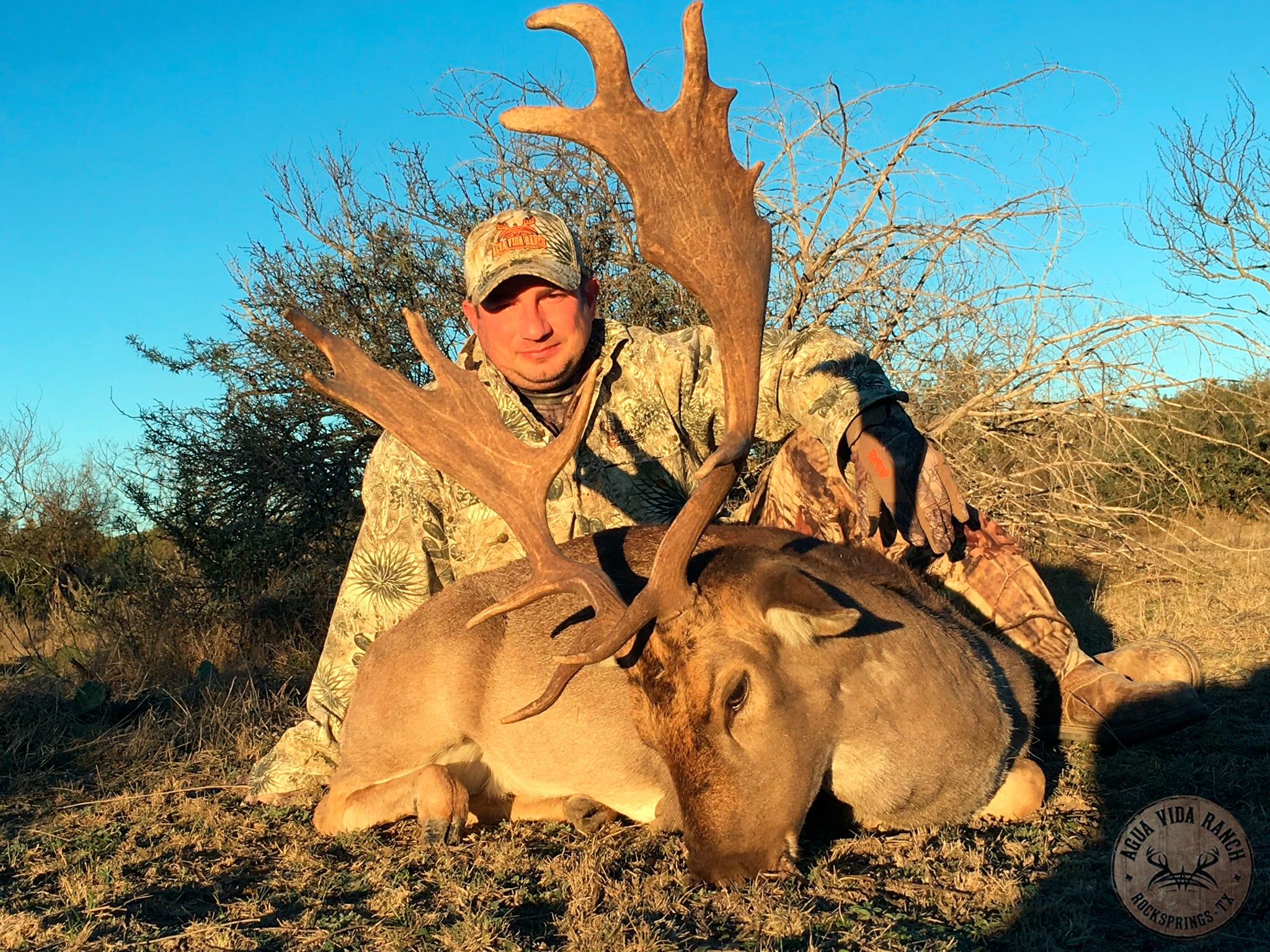 Justin Henneke